Dubtape de los Muertos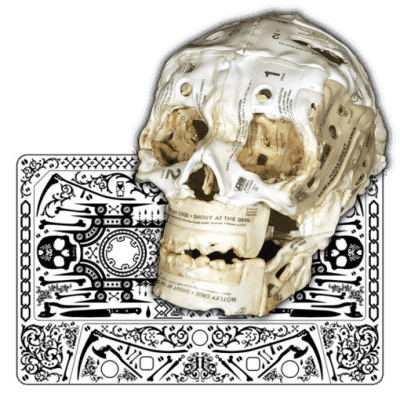 Here lies a digital dubtape (playlist) of dreadful and disturbing ditties for the long dead, recently deceased or undying hosts that haunt your Halloween festivities, hallows-eve shindigs and macabre masquerades.
Note: This list is entirely objective and subject to personal taste, influence (suggestions welcome), addition, rearrangement and revision without notice; so visit often or subscribe for the latest.
Unsettling Uvular Undulations for the Undead
Bela Lugosi's Dead – Bauhaus
Danse Macabre – Celtic Frost
The Killing Moon – Echo & the Bunnymen
Thriller – Michael Jackson
Sister Morphine – Rolling Stones
I Put a Spell on You – Screamin' Jay Hawkins
Little Demon – Screamin' Jay Hawkins
Hell – Squirrel Nut Zippers
Psycho Killer – Talking Heads
Dig Up Her Bones – The Misfits
Werewolf – The Frantics
Boris the Spider – The Who
Little Drop of Poison – Tom Waits
Whistlin' Past the Graveyard – Tom Waits
I'm Your Boogie Man – White Zombie (& Sex on the Rocks Mix)
They're Coming to Take Me Away Ha-Haaa! – Napoleon XIV (Jerry Samuels)
Dracula – Iced Earth
Transylvanian Concubine – Rasputina
Less-than Spooky Songs for Sappy Spirits
What's a Girl to Do? – Bat for Lashes
Little Ghost – The White Stripes
The Horror of Our Love – Ludo
Goofy Gurgles for Lil' Ghouls & Ghosts
Ghostbusters – Ray Parker Jr.
Grim Grinning Ghosts (The Screaming Song) – Buddy Baker & X Atencio
Vampire – Antsy Pants
Great Green Gobs of Greasy Grimy Gopher Guts – Dr. Demento
Monster Mash – Bobby Boris Pickett
The Headless Horsemen Song – Bing Crosby or Kay Starr
This is Halloween – Danny Elfman (Nightmare Before Christmas)
Riboflavin-Flavored Non-Carbonated Polyunsaturated Blood – Don Hinson & The Rigormorticians
Phantasmic Film-Phonics
Cry Little Sister – Gerard McMann (& the Z.U.Bee Remix)
The Time Warp – Richard O'Brien
This is Halloween – Marilynn Manson
Truly Creepy Choruses
Kagami – Die Form
Careful With That Axe, Eugene – Pink Floyd
Come to Daddy – Aphex Twin
Several Species Of Small Furry Animals – Pink Floyd
Dead Man's Bones – Dead Man's Bones
For Whom the Bell Tolls – Carmen Daye
'97 Bonnie & Clyde* – Tori Amos (Eminem)
The Black Dog Runs at Night – Angelo Badalamenti
Discipline – Throbbing Gristle
Symphonic Serenades to the Slaughtered (Instrumental)
Mercedes Lullaby – Javier Navarrete (Pan's Labyrinth)
A Tale – Javier Navarrete (Pan's Labyrinth)
Pans Labyrinth Lullaby – Javier Navarrete (Pan's Labyrinth)
Agnus Dei – Elliot Goldenthal (Aliens 3)
Mina's Photos – Kilar Wojciech (Bram Stoker's Dracula)
The Storm – Kilar Wojciech (Bram Stoker's Dracula)
The Ring of Fire – Kilar Wojciech (Bram Stoker's Dracula)
Introduction (Titles) – Danny Elfman (Edward Sissorhands)
Plavalaguna – Eric Serra (5th Element)
Radiowaves – Eric Serra (5th Element)
Apparition On The Train – John Williams (Harry Potter & the Prisoner of Azkaban)
The Dementors Converge – John Williams (Harry Potter & the Prisoner of Azkaban)
Hoodlum Haunts for Gangsta Ghasts
WARNING! Many of the following songs are completely inappropriate for any kind of public gathering, let alone a party:
A Nightmare on My Street – Will Smith
Are You Ready for Freddy? – Fat Boys
Mind Playing Tricks on Me* – Geto Boys
House of Horrors** – Insane Clown Posse
Dance with the Devil** – Immortal Technique
*explicit … **and extremely disturbing
Savor Some of these Scraps Online:
I Can't Believe You Forgot… !!
Had to quit before the strain caused an aneurysm or something equally unpleasant ruptured; have no fear (unless this is your intent), this list is far from complete and will continue to grow as I stumble over more musical corpses to bury in this nightmarish necropolis.